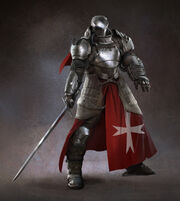 I will vanquish evil, uphold the law, protect those who walk in the light and respect order, and deliver justice at any cost.
Lycius, Lieutenant of the Light, and Holy Paladin of Ter Veraqua
Edit
Dungeon you say, Dragon you say, count me in!
Adventurer's Log
Edit
A friend of mine asked for my aid, he and those he is with walk in the light, I will join them as I am able.